TERRY LEE and the ROCKABOOGIE BAND
vincennes, in
Members:
Terry Lee - piano and vocals
Jack E. Harden - bass guitar
Herb Brock - lead guitar
Wayne Collins - drums
Music Style:
Rockabilly, 50s Hits, 60s Hits, Blues, Country, Oldies, Rockabilly, Swing
Contact:
Phone: 812-962-3445
Email:
Official Website: TERRY LEE and the ROCKABOOGIE BAND
More About the Band
TERRY LEE
and
THE ROCKABOOGIE BAND

"The Wildest Piano Pumpin Rock-N-Roll Show since Jerry Lee Lewis!"

Terry Lee & The Rockaboogie Band is a high energy, first class show band built around the lightning fast piano pumpin', rockaboogie playing of London England's Terry Lee!
The Band's professionalism both on and off stage has gained them respect and popularity with booking agents, talent buyers and entertainment directors all over the US and Europe
Popular with all age groups, this unique musical attraction is right at home in Small Venues, Private Party's, Corporate Events, Casinos, Classic Car Shows and Small/Large Outdoor Fairs & Festivals!
Adding an international act, such as London's England's Terry Lee to your schedule of events is guaranteed to create a lot of interest! If you would like to enquire about booking Terry Lee and the Rockaboogie Band at your next event please Don't hesitate to contact us!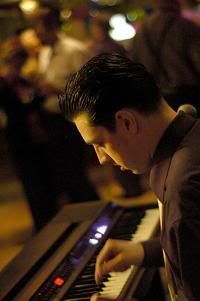 For More Information
Call Terry Lee - 812-962-3445
or
Email – rockaboogieband@yahoo.com
TERRY LEE and the ROCKABOOGIE BAND's Friends and Fans
Profile Added: 5/26/2007
Last Updated: Apr 19 2010 4:50pm
(Added (1) New Gigs Dates to the Calendar)